'Journey Through The Chakras' Yoga & Meditation Retreat - April 21st to May 1st 2016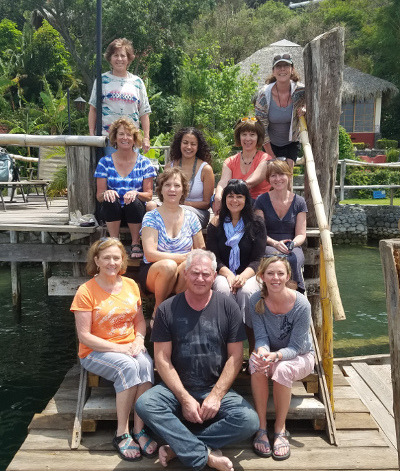 "Just returned from an incredible, wonderful, and inspiring trip to Guatemala. This was the third Funtastic retreat I've done with Lurie & Petra and although I loved our times in Puerto Rico and Jamaica, I have to say Lake Atitlan was my favorite of all of them. Villa Sumaya was such a beautiful place to be, with no detail spared in offering delicious dining, comfortable lodging, beautiful art work everywhere, gorgeous views from the dining areas and the yoga studios, and even a warm pool to swim in, sauna to sweat in, and solar heated hot tub to soak in. The staff was so accommodating and eager to help in every way. They arranged for me to rent a kayak all week and I went out each morning before yoga to paddle on magical Lake Atitlan with twin volcanoes in the distance as my daily inspiration. If I had another week there I would have paddled the seven miles to reach them. And, many of us jumped on small boats as water taxis to visit local towns with heavy Mayan and Spanish populations such as San Juan, San Pedro, Santiago, and Panajachel - all scattered around the Lake, and all having something unique about them. Santa Cruz, another small but lovely town was just a short walk from where we were staying. Before we arrived at Lake Atitlan, we spent two days exploring colonial Antigua, so rich in history and culture, and then our drive to Villa Sumaya afforded us great sightseeing of the surrounding towns and countryside. Finally, as if great chakra yoga practices, lake exploration, paddling, and exquisite cuisine weren't enough, myself and most of my very cool fellow travelers also enjoyed a healing massage, and participated in a Mayan fire ceremony. All in all, who could ask for a better Funtastic time in Guatemala!" Terese K.
---
"I just got back from the Journey through the Chakras Yoga Retreat to Guatemala. It was everything I hoped for in a wellness vacation. The accommodations and vegetarian food at Villa Sumaya were superb. We had many adventures hiking or taking the boats to explore the Mayan villages nearby. Our visit to the old Spanish colonial capital of Antigua was fascinating. My favorite part was, of course, the yoga in a beautiful yoga studio overlooking Lake Atitlan. Through Petra and Lurie's expert guidance, I improved my understanding of the seven Chakras and energy flow within my body. This experience will most definitely have lasting positive effects for me." Patty W.
---
"I enjoyed the Yoga, Meditation Retreat at Villa Sumaya. The facilities were excellent, the yoga room looked out over Lake Atitlan - so spiritual and beautiful! The retreat schedule allowed for plenty of free time to explore the Lake and I climbed the San Pedro volcano! A beautiful, memorable experience." Jacqui C.
---
This was a brilliant retreat exploring some of the most beautiful parts of Guatemala. Our locations were superb, unique yet culturally authentic to this beautiful country. Petra and Lurie selected, managed and organized this retreat with the care and attention that they have always done. This vacation was a taster, and I cannot wait to return to Central America and see more wonders!" Maya M.
Blize Scuba, Snorkel & Yoga Adventure - October 17th to 23rd 2015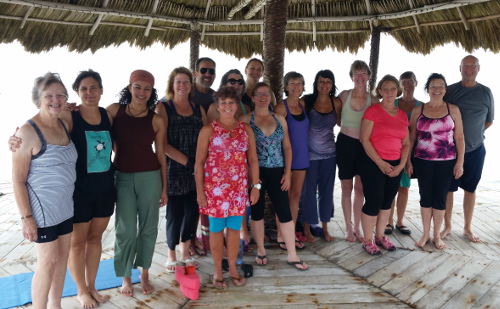 "We had a wonderful time on this retreat to Thatch Caye, Belize. Despite a couple of travel hiccups and minor inconveniences of remote island living, we enjoyed the trip and are glad we came! We met some wonderful people in the yoga group, and the staff at Thatch Caye was very friendly and accommodating. The food was fresh and delicious. Our super friendly bartenders made creative drinks with local fruits and rum! We loved that the trip was all inclusive, except airfare. We wrote a check to FUNtasticretreats, and Lurie and Petra took care of everything! We hope to join them for another yoga adventure in the future!" Julie & Jim B.
---
"The Yoga retreat to Belize in October 2015 was my very first experience with FUNtasticretreats. The trip via planes, van and boat was adventurous and well organized despite two separate flight itineraries within the group. It helped greatly that they organized two social gettogethers prior to the trip to get questions answered and to meet future travel companions. I was happy to get matched up with someone preferring an air conditioned room. Little details like this can make or break a stay! Life is clearly different on a tropical island! Lurie & Petra both helped me understand the uniqueness as well as the challenges that islanders have in managing their resort. It is important to keep this in mind. However, any and all of my and our needs were quickly addressed by them. Lurie and Petra, and the genuine effort by the resort's staff and managers was greatly appreciated. My vacation with FUNtasticretreats gave me the luxury of yoga classes on a platform above the sea and under a thatch roof with pretty little birds and Pelicans as onlookers daily and sometimes twice a day. Snorkeling and diving trips were well organized; canoeing and paddle boarding added more fun yet. All in all we were spoilt with activities and equally well provided for with meals and limitless, wonderful tropical cocktails. Lurie and Petra, thank you for such a memorable vacation; you made me feel safe and worry free, which provided total relaxation on a small piece of heaven. I will join you again." Traudl T.
---
"I had the time of my life in Belize with Petra and Lurie. The trip was so hassle free and fun. Those two provided the total package and I had to just show up and begin enjoying myself. Petra and Lurie are great compliments to each other as travel and yoga gurus. Thatch Caye was the perfect place to relax, play in the Caribbean, and enjoy great new friends! Daily yoga and scuba diving in the pristine setting was phenomenal. Walking to our palapa to practice over the water was something I 'll never forget. I had been to Belize 20 years ago and was glad to see it was still preserved and pristine. The staff at The resort were 5 Star. The managers were the sweetest couple from Texas, but all the others were local folks who were totally dedicated and hardworking and bent over backwards to take care of us. The fresh, delicious seafood, fresh fruit and prepared meals were unforgettable. Even though the place was magical, service over the top, daily yoga made this vacation great, my fellow travellers were an amazing group of people. I knew only Petra when I began this trip, but after a week I had 16 new friends. Everyone was a fellow adventurer and we all had so much to share with each other. I plan on being a repeat customer and am looking forward to the next adventure." Mary D.
---
"This was my third retreat taken with Petra and Lurie and my husband's second. Again, a good time was had by both of us. One of the things that makes these trips so great is the balance we are allowed to strike between relaxing, pampering, indulging and activities that keep us feeling healthy and fit. This trip offered the yoga we love. An experience we could enjoy together though our levels of practice differ greatly. Everyone feels welcome and safe during the yoga sessions. On the more adventurous side, we snorkeled on some beautiful reefs. My husband got to fish and I conquered the paddle board. We also loved interacting with the native people who led us on these Belize adventures. On the relaxing/pampered side the staff at Thatch Caya indulged us with three lovely meals a day as well as tropical rum drinks and snacks made by one of the most entertaining bar tenders EVER! We were lulled to sleep each night in our own little bungalow perched right on top of the Caribbean. We left our screened windows wide open and enjoyed the fresh tropical breezes the entire night. At times we were entertained by shooting stars and a full moon. Other times we were treated to billowing clouds and bolts of thunder and lightening. Our favorite was the sun rise right outside our window that could be viewed from our bed. I didn't even need to lift my head off the pillow. This was our first time in Belize and I can't think of a better introduction to this tropical environment. Both my husband and I are looking forward to sharing more Yoga Retreat Adventures with Lurie and Petra. They make the experience relaxing, adventurous, unique and very special." Barbara M.
---
" I had the time of my life! Met new friends.What a great time. I don"t ever remember laughing so much.We were treated so well. Everyone was very pleasant and.respectful. I would love to go again!" Anne C.
---
"Belize – what a wonderful week spent in warm tropical waters and in such a beautiful place to relax, eat, yoga, dive, swim, paddle and prop up the bar. The logistics were perfect, I felt so pampered and taken care of every minute of the day. This was a wonderful trip in wonderful company and shepherded as always by Lurie and Petra. Congrads gals on yet another retreat that couldn't be beat!" Julia L.
---
Jamaica Reggae Yoga & Meditation Retreat - April 7th to April 15th 2015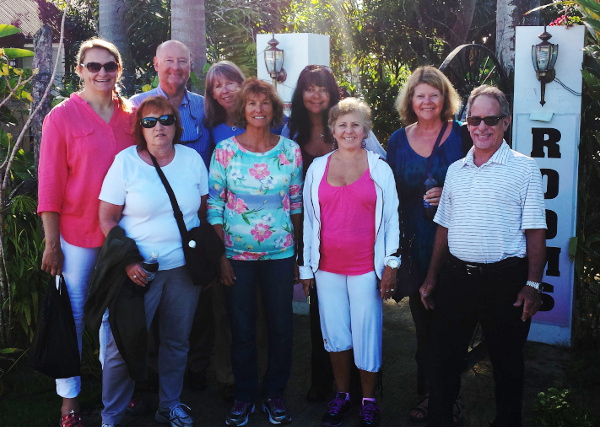 "The trip to Jamaica with Petra and Lurie was pure magic from beginning to end. Bill (my partner) and I had different objectives for this trip. Bill wanted to Scuba Dive and Snorkel and I wanted to do Yoga, walk on the beach and listen to live Reggae. Our wishes came true with abundance. Added bonuses were getting to know the Jamaican culture - Ya Mon !!!, along with spending time with an awesome bunch of people. The Negril Yoga Centre resides in a beautiful, lush garden - so refreshing compared to the "manicured" touristy beach hotels. It was located across the street from the beautiful 7 mile beach, which had lots of local restaurants and bars. Bill and I highly recommend travelling with Petra and Lurie if you are interested in a fun adventure to foreign destinations, giving you the freedom to explore on your own, along with yoga classes for those die hard yoginis and yogis out there." Kari & Bill
---
"Another FUNtastic Retreat with Petra & Lurie. This one was the Jamaica trip in April 2015 that included lots of great yoga in a beautiful garden setting at the Negril Yoga Centre where we stayed, with healthy and delicious meals served, and just a short walk to the beautiful Seven Mile Beach. Ours was an interesting and diverse group of fellow travelers with whom I played, explored, snorkeled, went scuba diving, hiked through majestic Mayfield Falls, and shared some great dining experiences at lovely and exotic restaurants. We did so much and had such a great time doing it all. Thanks Petra and Lurie for putting this all together and I look forward to going to Guatemala next year with you." Terese K.
---
"In April 2015 I went to Jamaica with FUNtasticretreats, and it was really fun! We were at a yoga center (with a great cook) across the street from this beautiful beach. Being pretty much a yoga beginner, I liked that the yoga was gentle and I also really enjoyed the meditation we did in the classes. There were lots of things to do, like swimming, snorkeling and boating. The highlight for me was a trip to the interior of the island, where we walked up a stream with lots of small waterfalls. This was my third trip with Lurie and Petra, and they really do all they can to ensure that the trip is very enjoyable for all." Alice W.
---
"I had a wonderful time on this trip. Petra and Lurie do such a good job to make sure each person is accommodated and enjoying their vacation. I love that the trips are both relaxing but also include so many options of fun and active things to do that there is never a dull moment! Everyone seemed to get what they wanted out of the trip and the number of repeat vacationers speaks for itself. Great folks to make great memories with and have some wonderful unique experiences at tropical locales – who could ask for more?" Julia L.
---
"The yoga retreat in Jamaica was very relaxing. I enjoyed the gentle yoga being a beginner. Everyone on the retreat was easy going and cool. I plan to join Lurie and Petra again on a future retreat. They do a great job in organizing fun activities for all. Yah Mon!" Bruce N.
Puerto Rico Yoga & Meditation Retreat - November 15th to November 22nd 2014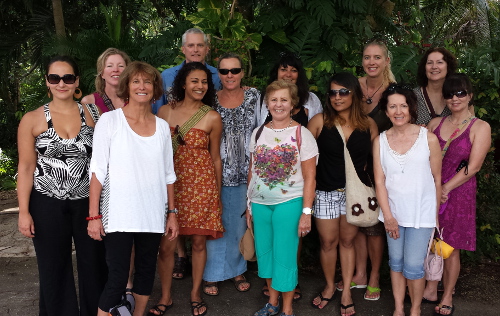 "Recently returned from a great trip and retreat in Rincon, Puerto Rico. What a blast in every possible way. The daily yoga sessions were immensely fulfilling and enjoyable with the added perk of hearing the waves crashing right below us. Delicious meals were prepared by creative cooks which we ate either in a sunny dining room or right outside on the deck with gorgeous ocean vistas. Lots of things to do and I took advantage of them: daily walks on local beaches, snorkeling the beautiful nearby reefs, kayaking, discovering the town's many restaurants, farmers' market, art fair, and then exploring the island a little more after the retreat ended and visiting the rainforest and old San Juan, among other treats. Add in a great sense of shared community and the joy of making some new friends and you get an unforgettable experience. Petra and Lurie did an incredible job of putting this all together and I plan on joining them on another future retreat which I'm sure will be FUNtastic." Terese K.
---
"We had a wonderful time in Rincon, Puerto Rico. If you are looking for a relaxing getaway with a great group of people, where you can meditate, practice yoga, and share a lot of laugh, we recommend getting on board the next Heavenly Yoga retreat. Petra and Lurie will ensure that your time with them is joyful. Although we were the only couple on this trip, we were instantly welcomed and just part of the group. Thank you for a great experience and for finding a wonderful villa for us to enjoy." Curt and Sylvie
---
"I found the Rincón retreat online. I had never been on a vacation without friends and family or done much yoga before, so was a little nervous at first. This ended up being one of the best vacations I've had. We had a wonderful group and Petra and Lurie made sure everything was taken care of to make us comfortable. Their yoga classes were as great as the social events they had planned. I look forward to the next one." Suvekshya B.
---
"Puerto Rico Retreat was great. Nice to have so many logistics pre-planned by Lurie and Petra. Just bought my airfare and was ready to go. Days were easy...have coffee...yoga/meditation...beach time...lunch....beach time...yoga/meditation...dinnner....relax wine read. A real vacation. Good comraderie amongst participants - . Great way to take a trip solo or with a friend or relative. LOCATION for me was premium - on the beach!! Love listening to waves, soaking up sun, watching sunset, appreciating the flora and fauna and warm ocean water." Tami H.
---
"Petra and Lurie do a wonderful job of meeting the needs of their yogis. We were exposed to many different yoga poses and encouraged to do what felt comfortable for us. Outside of class, we were able to do individual and group activities, once again, whatever worked for us. I did some kayaking, snorkeling, swimming, walking on the beach, went to farmer's market and art fair. Our meals were cooked by a wonderful chef who used local foods in a very healthy way, even the dessert. The villa worked well for us, it was right by the ocean! You can't imagine the feeling of morning yoga with the sound of the ocean in the background. ! It was wonderful!" Laura B.
---
"I appreciate how Lurie and Petra planned everything. I took care of my airfare and they did the rest, booked the hotel near the airport, took care of transportation to and from the Villa. They also arranged transportation into town for fun and shopping. The Villa Orleans was perfect for yoga, right on the beach. I left feeling relaxed, toned and thinking about taking another retreat with them in the future!" Marlene K.
---
"I was a last minute sign up for the Puerto Rico yoga retreat, and wasnt sure what to expect. Turned out there was nothing to worry about - It was an AMAZING trip, Petra and Lurie were so caring and hospitable!! The food was excellent, yoga was brilliant, lots to do and everyone got along really well! I made some great friends through this trip and cant wait for the next opportunity to explore a far off place. Thanks Petra and Lurie!!!" Maya M.
Panama Yoga & Meditation Retreat - April 26th to May 10th, 2014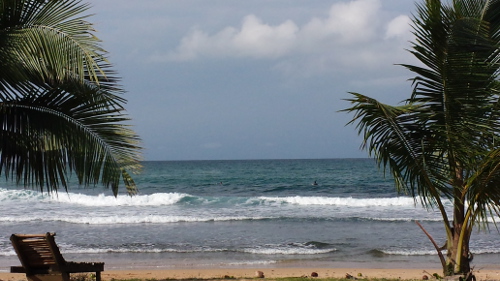 "The trip to Bocas del Toro was beyond anything my husband & I have experienced. The first thing I was amazed with was the degree of planning that went into this trip. All details were clearly worked out & conveyed to us. I still can't understand how we were able to have this extensive of a adventure for such a reasonable price. My husband is not a yoga enthusiast; that changed thanks to the skillful guidance & instruction of Petra & Lurie. This was a unique trip of a lifetime for which we will be eternally grateful. With Warmth & Appreciation" Ray & Annette C.
---
"The yoga retreat to Panama with Petra & Lurie was fantastic. We enjoyed exploring Old Panama City, discovered great restaurants and sailed through the Panama Canal. Bluff Beach Retreat was an extraordinary location for a yoga retreat, a perfect jungle ocean experience. The relaxing mornings in the hammocks, excellent fresh and local food and tranquil yoga classes on the deck surrounded by jungle, and the sounds of the ocean waves. On a boat trip, we explored the islands of Bocas del Torre and snorkeled, saw dolphins, monkeys and beautiful coral and fish. We rode bicycles and horses through the jungle highway to calm lagoons for swimming. A perfect tropical yoga vacation!" Rita F.
---
"We had a wonderful yoga trip to Panama. This was our first yoga retreat as well as our first time in Panama. Both exceeded my expectations. We had a great time touring the City and the Canal and an especially good time on Bocas del Toro with twice a day yoga and plenty of things to see and explore. It was fun and a great learning experience to have both Lurie and Petra with their different approaches and styles. I would definitely go again." Mike S.
---
"Paul and I returned from the trip relaxed and full of healthy energy. Rarely do we come home feeling this way. I think it was because this retreat offered us adventure, relaxation, AND rejuvenation. We were totally pampered with three fresh healthy delicious meals, served on the outdoor deck. We lazed by the pool or walked on the beach. We snorkeled, rode bikes, shopped, and communed with nature (including a leatherback turtle, dolphins, and sloth). It was heavenly to hear the birds every morning and evening. Our accommodations were first rate. Mostly we were blessed to have two lovely yoga classes a day. Lurie and Petra catered to my husband's beginning skills while offering a challenge to each participant according to their individual level. These classes began our day with a spiritual good morning and a thankful day's end. All this and we were still able to explore Panama City and the canal. Both were so much more than we expected. My husband loved sniffing out gourmet food and wines while I was blown away by the history we were able to explore. I've been on two trips with these caring instructor, tour directors. The first time I left my family to find some alone time. This trip I invited my husband. Both were truly special trips. Can't wait to see what they have planned for their next adventure. I'll be aboard." Barbara M.
---
"I am at a loss for the words to describe the wonderful trip to Panama. Petra and Lurie organized the most outstanding yoga retreat. Every last detail was taken care of so that we could have a relaxing, wonderful trip to paradise. I will definitely go on another retreat that Petra and Lurie put together." Sheri M.
---
"I was in the first group that went to the Panama Retreat in April 2014. The trip exceeded my expectations. Warm open people with a lot to offer. Great, interesting location. We had a wonderful group - some from the Denver area - some from out of state. The quality of the yoga instructor was among the best I have ever experienced. I highly recommend Heavenly Yoga's Retreats." Greg W.
---
"Do I ever miss both of you and our oasis in Panama! WOW! What an amazing experience we had on the Bocas del Toro, Panama yoga retreat! My personal purpose was to experience yoga and meditation each and every day. Loved, loved, loved every single day! To name just a few: Petra's kind and loving manner, and her ability to teach yoga so thoroughly and with purpose. Lurie sharing and teaching what she learned at the Ashram's in India. All the time she spent planning this wonderful experience so everything would go so smoothly and it did! All my friends (and our two new friends) had to do is show up and enjoy the experience. Oh, back to what made this so amazing: Loved the house and Cassius Clay (the boxer), the house mascot! The beach front property, farm, horseback riding near the beach. Seeing a leatherback turtle come to shore and TRY to lay eggs. What an experience and birthing process. So much so that I wished there had been a shovel nearby to help dig the hole. There was the sound of the ocean pounding the shores. Howling monkeys swinging nearby in the treetops during our guided meditation session with Lurie (she has powers). Monkey island (they are so darn cute)! Starfish Bay. Visiting the Wounaan Tribe in the jungle (it would take an entire page to pay tribute here). Feeling very blessed to have Petra as my regular yoga instructor, to have met Lurie and learn of her world experiences, and the two new friends who joined us, Tarah and Leanne. THANK YOU, Petra and Lurie, for giving of your time, efforts and world experiences with us. It is a complete transformation in fully giving yourself to the yoga retreat. With loving gratitude." Dana L.
---
"I am so happy to have been a part of the retreat and to connect with such a great group of people. I really could not have asked for a better experience, and I thank Lurie and Petra for making it so. People have been asking me about my trip and it's just been hard to explain because I think it's impossible to convey to others how special and unique it was. Most importantly, I have come home rejuvenated and having taken some important steps for my body and mind, which I was in serious need of. I only hope that you will have another retreat in the future and I will be there for sure! Thank you for making it a wonderful experience." Tarah S.
---
"My friend and I signed up for the Panama retreat without knowing the instructors or other participants as we both live in states other than Colorado. The yoga retreat in Bocas del Toro was incredible! Right from the moment I signed up until the end of the trip in Panama City, both Petra and Lurie paid immense attention to detail and provided information to allow for successful travel planning. Both were incredible yoga instructors and, with such an intimate group, we had the opportunity for one-on-one attention. The idea of 2 yoga sessions a day was a bit unnerving (I'm lucky to practice every other day) but, because of their intuitiveness as to the skills and needs of the group and individual, I improved my practice and did not leave feeling that 2 sessions were too much. The work that it took for Petra and Lurie to put this together was evident and it resulted in one of the best trips that I have taken." Ann L.
Costa Rica Yoga & Meditation Retreat - June 7th to June 14th 2012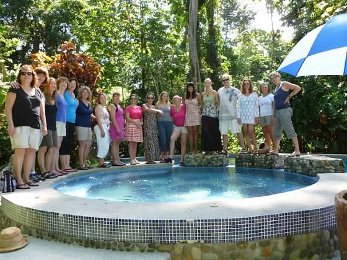 "This was a great trip, with lots of different styles of yoga and meditation paired with great side trips (like ziplining!), time by the ocean and amazing sounds of wildlife in the jungle." Connie Y.
---
"I have traveled to many places. This yoga retreat was the trip of a lifetime. The setting was absolutely breathtaking – monkeys howling, beautiful jungle plants and flowers, gorgeous surroundings. And, more incredible, was the yoga – I just felt wonderful every day! Petra and Lurie were fantastic! Costa Rica was wonderful." Jody F.
---
"Unforgettable is an understatement in regards to my Costa Rica Yoga Retreat taken the summer of 2012. My travels, accommodations, wonderful foods, yoga and mediation classes each day were more than I had imaged. The relaxed schedule allowed me to do some of my own activities, walks on the beach, guided tours, and enjoy the feel of Costa Rica living. This was by far the best trip I've taken in my life to this point! Thank you Lurie & Petra for the experience." Kimmy B.
---
"My friend invited me to go with her on a Costa Rica Yoga Retreat with Petra and Lurie in June 2012. We had a fabulous time and came back feeling very relaxed and balanced. One of my favorite memories is listening to the exotic sounds of the rain forest while we were doing yoga in an open air studio. The retreat center is first-class and it has a beautiful swimming pool surrounded by the most unusual plants I have ever seen. I highly recommend this trip to anyone who wants to get away and enjoy Pura Vida for awhile." Patty W.
---
"Our yoga retreat at The Goddess Garden was amazing! Our hostess Jackie was very accommodating and has provided the perfect environment and delicious food to enhance and complete any Yogi/Yogini's dream of a Namaste experience. Thanks to Petra and Lurie for planning and developing a well rounded and interesting combination of yoga classes for all of us to experiment with. They also researched and sought out some very cool day excursions for everyone to heighten the whole trip!" Michele H.
---
"I am pleased to write about my experience on the Costa Rica yoga retreat with Petra and Lurie. It's not an exaggeration to say "it was life changing". I decided to go on my own and ended up sharing a room with someone I had never met. I'm 64 and she was 30, the age of my youngest daughter. That was my first delightful surprise. By the end of the week everyone on the trip was bonded. Yet I also spent a lot of time on my own. It was wonderful to be fed three lovely meals a day in a wonderful open air dining area where we could look out at beautiful exautic flowers and listen to frogs, howling monkeys, and a variety of song birds. The yoga and meditating we did helped me clear my head and begin to ponder how I want to live the rest of my life. I spent time near the pool or on the beach journaling and relaxing. Soon I found my self softening my heart, opening my heart and loving myself and others with more passion. I laughed a lot, shared myself and felt very connected to the lush Costa Rica environment. I feel like my creative juices were released and since I have returned to my life here in Denver I have lived with more intention and all that I choose to do has more meaning. I look forward to another yoga retreat in the coming years; possibly with my daughters of a few good friends, or who knows, maybe I'll talk my husband into joining me.If you've read about the February trip and felt a little tug to participate. Don't wait. Sign up and go. Take a friend, or go on your own. But go. You'll be happy you did. Namaste ~ " Barbara M.
---
"The Costa Rica yoga retreat I took with Petra and Lurie was fantastic. On top of getting two different styles yoga we got great food. The owner of the Goddess Garden does all the juices straight from the rain forest. The tours were very reasonably priced!" Regina M.
---
"The yoga retreat in Costa Rica was a deeply nurturing trip for body, mind and soul. Wonderful teachers and a lush, beautiful place!" Kelly R.
---
---